Grønlandsk kultur- og samfundsforskning 1995-1996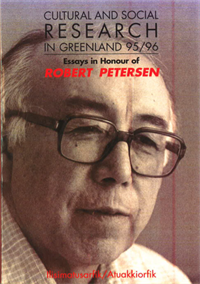 Indhold 
Essays in Honour of Professor Robert Petersen
Jette Arneberg: Exchanges between Norsemen and Eskimos in Greenland.
Knut Bergsland: Loanwords and Neologisms in Aleut Compared with Greenlandic.
Louis-Jacques Dorais: Inuugatta inuulerpugut: Kalaallit and Canadian Inuit Identities.
Michael Fortescue: West Greenlandic half-transitive affixes in a diachronic perspective.
Milton M.R. Freeman: Why mattak and other kalaalimerngit (local foods) matter.
Rolf Gilberg: When the "Moon Beings" visited The Only People in the World. The first ethnographical notes on the Inughuit, a North Greenland Inuit people.
Bjarne Grønnow: Driftwood and Saqqaq Culture Woodworking in West Greenland.
Hans Christian Gulløv: Reading the Thule culture - history between archaeology and ethnography.
Elina Helander: Development, knowledge and sami reindeer herding.
Birgitte Jocobsen: Ukiut 30-nngornerat. New Reading Investigations.
Ivar Jónsson: Reflexive Modernization, Organizational Dependency and Global Systems of Embedded Develop,ment - A post-Colonial View.
Inge Kleivan: An ethnic perspective on Greenlandic food.
Karen Langgård: Does Greenlandic Literature Call for a Specific Greenlandic Literary Theory?
Per Langgård: "Grønlandsk som fremmedsprog" revisited. On the question of typological distance in the L2 classroom.
Ole Marquardt: 'Experienced hands': Seniority of the Hudson's Bay Company's employees and of the employees of the KGH in Nuuk, Qeqertarsuatsiaat and Qaqortoq in the mid-19th century.
Hans Junker Mortensen: Greenland's bilateral fisheries agreement with the European Union.
Ludger Müller-Wille: Geographical and Territorial Concepts in Inuit Toponymy: Names of Offshore Features in Nunavik.
Jørgen Rischel: The Making of Modern Greenlandic Dictionaries.
Jette Rygaard: Symbolic Language. Universal Language in Mythical Literature or .. Are Myths to be Expounded?
Birgitte Sonne: Genuine Humans and "Others". Criteria of "otherness" at the beginning of colonization in Greenland.
Kirsten Thisted: Republication of Greenlandic Tales Collected in the Nineteenth Century.
Hanne Thomsen: Between Traditionalism and Modernity.
Klaus Georg Hansen: Robert Petersen: Bibliography 1944 - 1995.
---
Order publication
You can easily order publication(s) from Ilisimatusarfik publishing