Grønlandsk kultur- og samfundsforskning 1998-1999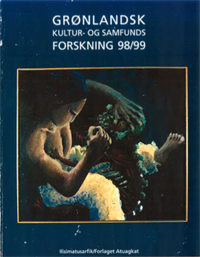 Indhold 
Ole Marquardt: Grønlænderne of vestens covilisation - træk af Rink-tiden grønlandskpolitiske diskussion.
Bent Flemming Nielsen: Grønlandsk teologi på Ilisimatusarfik - kontekstualitet of kvalitet.
Birgitte Jacobsen: Sprog i kontakt. Er der opstået en ny dansk dialekt i Grønland?
Jette Rygaard & Birgitte Kleist Pedersen: Feltarbejde, metode og teori - medieforskning i Grønland.
Elisabeth Engberg-Pedersen og Frederikke Blytmann Trondhjem: Fra barn til voksen: udviklingen i genfortælling af en billedbog på grønlandsk.
Erik Gant: Grønland som begivenhed.
Hanne Petersen: Fremtid-normer og for-billeder i forandring.
Hans Junker Mortensen: Medier og Politik i Rigsfællesskabet.
Jens Chr. Manniche: Civilisation og national forpligtelse.
Karen Langgård: Vestgrønlændernes syn på østgrønlænderne gennem tiden.
Niels Frandsen: Lært at læse - og hvad så? Grønlandske bøger i Nordgrønland 1791 - 1850.
Wolfgang Kahlig: Interkulturel kommunikation på det grønlandske arbejdsmarked.
---
Order publication
You can easily order publication(s) from Ilisimatusarfik publishing