Grønlandsk kultur- og samfundsforskning 2010-2012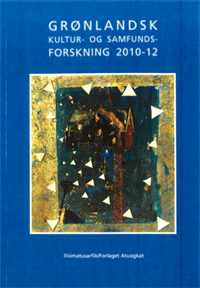 Indhold
Kultur 
Karen Langgård: Hvordan ser salmebogen Tussiutit fra 2008 ud med en teksthistorikers øjne? 
Flemming A.J. Nielsen: Da apolakyptikken kom til Grønland. 
Birgit Kleist Pedersen: Kultur er ikke noget, man tager på om søndagen. 
Jette Rygaard: Film, facts, fascination og følelser - og de stjålne generationer. 
Samfund
Ulrik Pram Gad: Postkoloniale suverænitetsspil: Grønland i marginen af Europa.
Anders Ravn Sørensen: Penge og national identitet i Grønland.
Sundhed og forebyggelse
Wolfgang Kahlig & Jette Eistrup: Institutionalisering af indsats til forebyggelse af selvmord i Grønland. 
Bodil Karlshøj Poulsen: Alkoholens historie i Grønland. 
Elizabeth Rink, Ruth Montgomery-Andersen, Gitte Tróndheim, Dionne Gesink, Louise Lennert og Navarana Kotalawala: The Role of Personal Responsibility, Trust and Relationships, and Family Communication in the Prevention of Sexually Transmitted Infections among Greenlandic Youth. 
Tine Aagaard, Tove Borg og Lise Hounsgaard: Hverdagsliv og daglig livsførelse.
Uddannelse
Merete Watt Boelsen: Feer og hekse i uddannelsessektoren. 
Jane Buus Sørensen og Ulla Willumsen: Brug af geografiske informationssystemer, GIS, til undervisning på læreruddannelsen.
---
Order publication
You can easily order publication(s) from Ilisimatusarfik publishing