Jette Marcussen
Postdoctoral researcher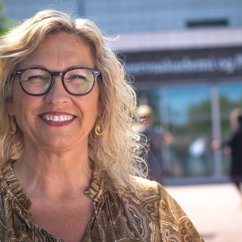 Address
Ilimmarfik, Manutooq 1
Postboks 1061
3900 Nuuk
Postdoctoral researcher
Institute of Health & Nature
---
In May 2021 Jette started as a researcher at the Institute of Nursing and Health Sciences. Beside her own research, Jette will work with a continuing creation of building the research environment and research-based nursing education at Ilisimatusarfik.
Jette´s area of research will be to promote mental health throughout loss and bereavement during critical illness, death and grief concerning children, young adults and their families. She want to develop knowledge about loss, bereavement and grief and interventions targeted supporting health professionals and other professionals to promote well-being in children, young adults and families having different kinds of family structures. At Ilisimatusarfik she is interested in developing knowledge about students experiences with loss, bereavement and trauma and how we can support the nursing students mental health and their competences supporting others when they become nurses themselves. 
Her source of central area is based in her PhD in which she investigated children and young adults´ double bereavement of parental divorce and parental death, and how health professionals can support these children, young adults and their families, when a divorced parent is critical ill and die of cancer. 
She is interested in both qualitative and quantitative research methods, and her work is inspired by research methods such as ethnographic fieldwork, interviews and survey. Currently she is cooperating in a project with Steno Diabetes Center Greenland.
Jette is in a part time position at Ilisimatusarfik and she also works at OPEN, Department of Clinical Research, University of Southern Denmark and as a Senior Lecturer in Nursing at the Department of Applied Health Research, University College Lillebaelt, Odense, DK. She is also educated as a Master in Educational Psychology and as a Registered Nurse (RN) and she has worked many years with education and research.
Subjects
Education
Nursing
Work life