QIMMEQ photo wins 2nd place
01.04.2021
Through fascination and aesthetics, images have the ability to open up the world of research in an inviting and surprising way. The Danish National Research Foundation wants to spread how scientific progress every day creates new knowledge and develops the world around us.
We can do this by telling the stories of the researchers' scientific advances and discoveries using the photograph as a visual approach.
That is why every year the foundation launches a photo competition based on the potential of photography as documentation and communication of research.
At the end of 2020, the foundation again invited the entire Danish research community to submit photographs to the competition.
The assessment criteria were as follows:
To what extent does the photograph evoke emotions in the audience
To what extent does the photograph serve as a visual entry into the story behind a specific research result
The aesthetic quality of the photograph
The judging panel, Christine Buhl Andersen, chairwoman of the New Carlsberg Foundation; Louise Wolthers, research manager / curator at Hasselbladstiftelsen; and Minik Rosing, professor at GLOBE Institute, deputy chairman of the board of the Danish National Research Foundation and member of the board of Louisiana, awarded a great 2nd place to Carsten Egevang for the photograph "The Race".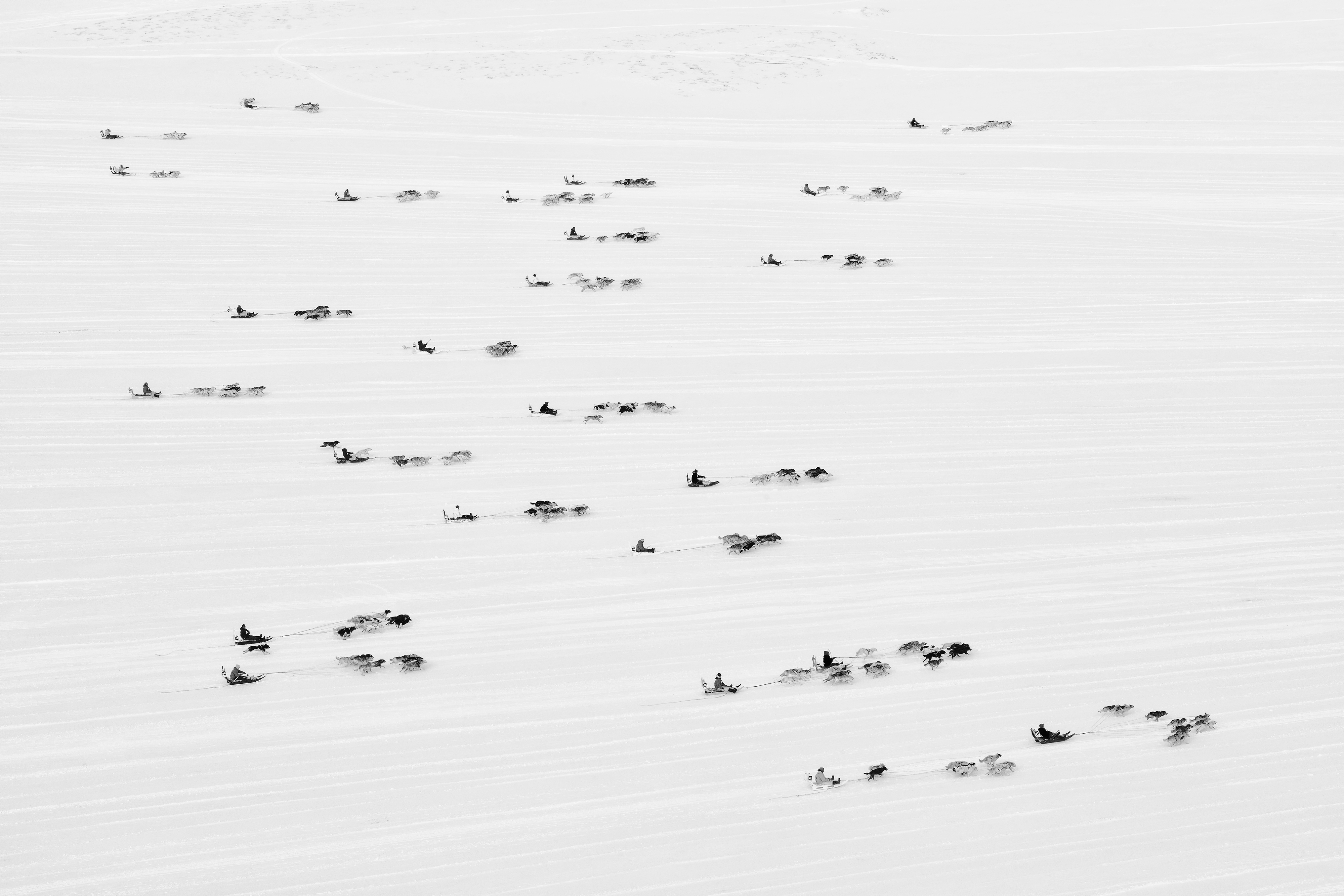 The photograph is part of the interdisciplinary research project QIMMEQ, which focuses on the Greenland sled dog. The project included groundbreaking DNA research on the dog's origins along with anthropology, archeology, veterinary and biology research to provide a holistic, comprehensive and detailed picture of its history, significance and contemporary significance. The project also produced outreach products such as exhibitions, short films, books for the Greenlandic primary school and a coffee table photo book. An important part of the project was to document the modern use of the sled dog by photography - e.g., sled dog racing, which is increasing in popularity in Greenland.
The photograph was taken in Ilulissat, Greenland in March 2018 during the annual national sled dog race. Here, the QIMMEQ project - a research project at Ilisimatusarfik, University of Greenland and Globe Institute, University of Copenhagen - held one of many workshops that collect DNA samples and interact with the local dog sled drivers.
Justification by the judging panel:
A captivating image, which only on closer inspection reveals that the objects are dog sleds on the ice. The motif seems familiar, without you being able to see clearly what it represents - is it ducks on Peblinge lake, birds in flight or contours in a windswept snowy landscape. The image is extremely well composed, and gives an immediate impression of speed across the field. The underlying research project is fascinating in its interdisciplinary breadth.
---
---