The European heritage of the Greenlandic people
01.06.2021

Download
the report
It is well-known that the Greenlandic population mainly has Inuit ancestry, and that many Greenlanders also have some European ancestry. A new genetic study, just published in the journal Current Biology and led by researchers from Denmark and Greenland, investigated the sources and timing of the European ancestry present in Greenlanders today.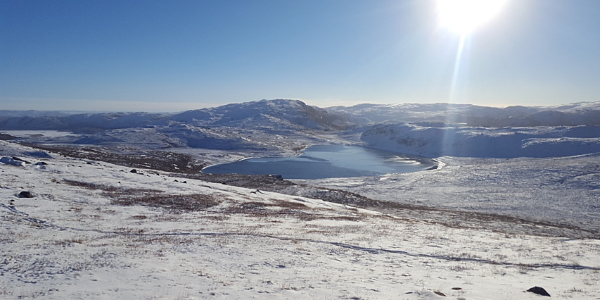 Photographer: Anders Albrechtsen
Focus and background of the study
Historical records show that over the past few hundred years the Greenlandic Inuit population has had contact with people from many different European countries, including whalers from the Netherlands and Portugal, missionaries from Germany and Norway and through colonization by first Norway-Denmark and then Denmark. And it is a common belief based on stories and traditions that Dutch whalers and other non-Danish Europeans are strongly represented among the ancestors of the present day Greenlanders. However, no-one knows for sure which European countries the European ancestors of the Greenlanders came from. The new study looked into this by analysing genetic data from nearly 10% of Greenlanders and individuals from 14 different European countries using new sophisticated statistical methods developed by a collaborator in the UK.
Research questions inspired by local curiosity
"It was a fun study because it was motivated by what people in Greenland are curious about. We had outreach events in Greenland prior to and after analysis of the results, and it was amazing to experience how engaged people are in their families' stories and ancestry. Also, many Greenlanders had recently taken DNA ancestry tests via private companies, but were not always entirely sure how to interpret their reported ancestry, which can be quite tricky in a unique population such as Greenland", says co-first author Ryan Waples from Department of Biology, University of Copenhagen.
One of the things that became clear at the outreach events was that many thought that whalers, including the Dutch, would constitute a substantial amount of their European ancestors. However, the study found little genetic ancestry originating from the Netherlands, Portugal and Germany. Instead, the analyses suggest that the far majority (98%) originates from admixture with Danes within the past few generations. Norway was the next largest contributor, with substantially less ancestry than Denmark.
However, what DNA does not show, is the diversity of the European cultural influence that to can be seen in modern, Greenlandic culture too this day: the Moravian christmas star in every window during Christmas, folk music and dance - the Kalattut, and colourful glass beads in the national costume to name just a few things that came from different parts of Europe. These aspects have been reinvented in the local context as elements in a distinctly Greenlandic culture.
Answers reached by collaboration
Co-first-author Aviaja Hauptmann from University of Greenland agrees: "This study has been a great example of a scientific collaboration between experts from both Greenland and Denmark, where Greenlandic perspectives could be included from beginning to end. This also meant that the genetic results could be understood in their historical context, which lead to interesting results that can be one of several pieces to understand our history and how it has impacted us as a people".
The study was a large collaborative project with contributions from researchers from University of Copenhagen, Ilisimatusarfik (University of Greenland), Nunatta Katersugaasivia Allagaateqarfialu (Greenland National Museum and Archives), University College London, Steno Diabetes Center Copenhagen and University of Southern Denmark.
Contacts
Aviaja Lyberth Hauptmann, alha@uni.gl, Ilisimatusarfik (University of Greenland) (Greenlandic, Danish & English)
Ida Moltke, ida@binf.ku.dk, University of Copenhagen (English & Danish)
Ryan Waples, ryan.waples@gmail.com, University of Copenhagen & University of Washington (English)
---
---