Qimmeq - a hunt for the soul of the Greenland sled dog
Press release: Saving the sled dog culture
17 July 2017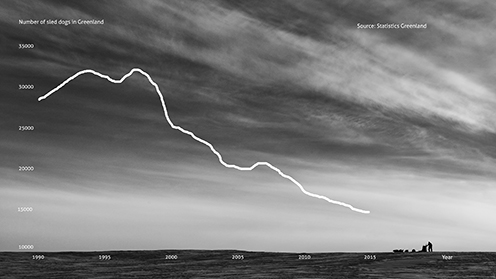 Number of sled dogs from 1990 to 2015. (Photo: Carsten Egevang)
A booklet with 22 recommendations on how to manage and develop the sled dog culture is ready for release on 20 July. The purpose of the booklet is to focus on which initiatives are necessary in order to avoid the disappearence of the sled dog culture. Sisimiut Museum will host a reception.
An international event and conference about the sled dog culture - Arctic Nomads - was held in November/December in Sisimiut, Greenland, with participants from the Inuit countries. During the conference 22 recommendations for saving the sled dog culture were articulated. They are now published in Greenlandic, Danish, English and Russian.
An important tool
Naalakkersuisoq (Minister) for Culture, Education, Research and Church Doris Jakobsen Jensen participated in formulating the recommendations. Jakobsen Jensen will use the recommendations in her political work for the conservation and development of the sled dog culture in Greenland. Jakobsen Jensen says:
- The recommendations come directly from those people who in their daily life work with sled dogs. It is an important tool to improve the conditions for sled dogs as well as for the mushers.
We need to hold on to our culture
Musher and sled builder Hans Peter Kreutzmann from Sisimiut also participated in formulating the recommendations. He ads:
- We need to hold on to our culture because within a few years time it will be "eaten" by engine-driven vehicles if we don't do anything. We hope that with this booklet we can motivate young people to drive the dog sled - it is a way of life. It takes time and is exhausting but it is well worth the effort.
The booklet is produced by cultural producer NEBULA.
Where
Sisimiut Museum.
When
Thursday 20 July 4.30 pm.
Everybody is welcome!