Maria Ackrén
Head of department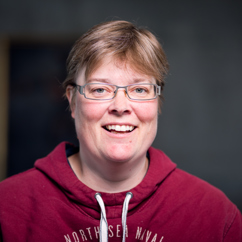 Address
Ilimmarfik, Manutooq 1
Postboks 1061
3900 Nuuk
---

My research profile is focused on autonomous areas in the world - with a special focus on the Nordic autonomous territories Greenland, the Faroe Islands and Åland
Maria Ackrén is associate professor in political science at the Institute of Social Science, Economics & Journalism at the Department of Social Sciences.
As an associate professor, I have worked at Ilisimatusarfik since 2011, but I have also taught and researched at Åbo Akademi in Finland since 2005 and been a guest lecturer at Mid Sweden University in Östersund in Sweden. I am also interested in international relations in an Arctic / Greenlandic context, island studies, regional parties and qualitative methods. My research is typically in the area between comparative and international politics.
MA is active in the following networks: UArctic Network on Geopolitics and Security, Global Research Network on Comparative Territorial Autonomies and similar networks. MA is an associate professor at Åbo Akademi in Finland and an affiliated researcher at Åland's Peace Institute, the Institute of International Affairs and its Research Centers, the Center for Small State Studies and the Center for Arctic Policy Studies at the University of Iceland. MA has participated in various Nordic and international projects.
Subjects
Arctic conditions in an international perspective
Comparative method
Governance
Greenland internationally
Island studies
Nordic relations
Qualitative methodology
Regional parties in the Nordic context
Self-government and other areas of autonomy in the world