Tenna Jensen
Assigned associate professor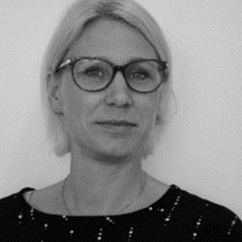 Address
Ilimmarfik, Manutooq 1
Postboks 1061
3900 Nuuk
---
TJ works with cultural analytical and historical studies of perceptions and practices of health and health promotion in Greenland and Denmark since 1900 - and she has a special interest in the interaction between science, politics and everyday life in the welfare state.
TJ has extensive experience in developing, leading and working on interdisciplinary research and development projects involving, among others, citizen engagement, co-design and community partners.
TJ is currently the project leader of a number of projects, including topics such as physical work environment, treatment effect of drug treatment, evaluation of the project Ataatsimoorluta Aalasa. In addition, she is involved in ageing research, and has previously been the project manager on the Ageing in the Arctic research and development project, which ran from 2017-2022. TJ is also involved in a number of Nordic networks on wellbeing, health, ageing and dementia, and is actively engaged in working on capacity building in wellbeing and public health research - including through her work as head of Ilisimatusarfik's Centre for Arctic Wellbeing. TJ has previously led and worked on a number of projects on ageing and health in a Danish context.
TJ is employed as Senior Researcher at the Centre for Public Health in Greenland, University of Southern Denmark, Head of Ilisimatusarfik's Centre for Arctic Welfare at the Institute of Culture, Language & History and the Institute of Society, Economics & Journalism, Ilisimatusarfik and Adjunct Lecturer at GCHR Greenland Centre for Health Research, Department of Health & Nature, Ilisimatusarfik. TJ is currently supervising 2 PhD students at Ilisimatusarfik.
Subjects
Welfare
History
Social research
Cultural analysis
Public health